Awards
Award-Winning Dental Team In Nottingham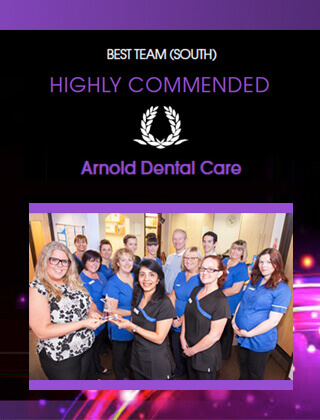 Read about our award recognitions
Our runner-up is no stranger to recognition for its efforts.
However, their ongoing development of highly impressive tailored services for children impressed the judging panel.
The practice has been established for 40 years and is at the heart of the community which it is proud to serve.
Defining a true family practice dedicated to 'prevention rather than cure', they have taken improved oral health message to numerous local schools with a refined and tailored message which achieves wonderful results.
Inspirational support for national campaigns such as Mouth Cancer Action Month and National Smile Mouth have assisted in raising the profile of these campaigns in their area.
Local area events and practice open days allow the team to interact with existing and potential patients disseminating the message of improving oral health to advantage.
The judges are proud to add further recognition for their sterling efforts to improve the image of the profession.