5 Reasons You Should Get Invisalign
Invisalign is a popular choice for orthodontics, and it's not surprising – there are so many fantastic benefits to the treatment, with millions of patients all over the world thrilled with their results. Here are 5 reasons our expert dentists love Invisalign braces.
1) It's convenient
Convenience is king, and nowhere is this more true than with your braces. How is Invisalign convenient? Well, these revolutionary discrete invisible braces are removable, which means you can take them out when you want to eat, clean your teeth or take a short break from treatment. As long as you wear your Invisalign around 22 hours per day, your teeth will stay on track.
2) It's predictable
Since the invention of orthodontics, many patients have undergone treatment with no way of knowing how their smile will look at the end. With Invisalign, the treatment involves creating 3D imagery of your smile at each stage of treatment, as well as your expected results. This means you can be more sure of how your new smile will look when you finish, and also helps you to know if your teeth are moving as planned.
3) It's comfortable
Comfort is so important when it comes to braces because so many patients in the past have been put off orthodontics for fear of pain and discomfort. We often picture metal wires and brackets when we think about braces, but Invisalign simply uses a series of clear aligners that fit snugly over teeth – and aside from slight pressure when you change to your next aligner, you shouldn't feel any pain during treatment.
4) It's suitable for teens
While we talk about adult braces a lot here at our dentists, based near Newark, we think it's important to stress that many types of brace are suitable for teenagers, including Invisalign. The teen version features a blue dot indicator to show they are being worn as recommended, giving parents the ultimate peace of mind.
5) It's clear
Invisalign is known for being the 'invisible brace' – because, thanks to its clear acrylic design, it's extremely discreet. Here at our dentists, based near Newark, we understand that many people will avoid braces because they've traditionally been obvious. But with Invisalign, it's unlikely anyone will notice your braces at all.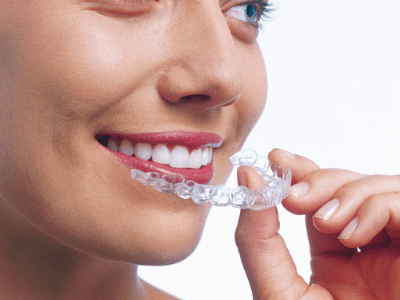 Book your Invisalign brace treatment
We want to help you on your journey to a straighter smile. If you're interested in Invisalign treatments or have any queries about what was discussed in today's blog, book a consultation at our dentists, in Nottingham, and get in touch with our experts today.